What is a Specific Focus Meeting? Within the OA Fellowship, there are members who have discovered they are more comfortable meeting with other members who share similar attributes. All OA members are welcome at these meetings. For a full list, see the Find a Meeting page.
Here's how you can locate them. Visit the OA website and click on Fiind a Meeting for listings of meetings worldwide. To find an online meeting, for instance, click on that category. Select your time zone and the day. Before you click on the red button, Find a meeting, click on Additional search options toward the bottom of the page to select a category. You'll see various options you can select: Time of day, Specific Topic, Language, All Meetings (with or without visitors), and Specific Focus. The search criteria for specific focus below was current as of September 2023.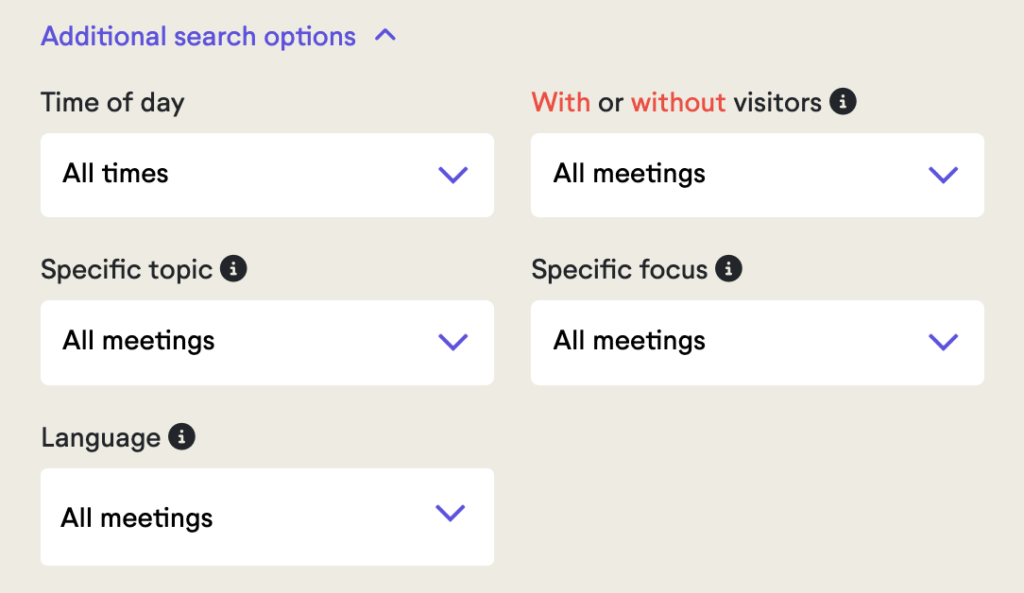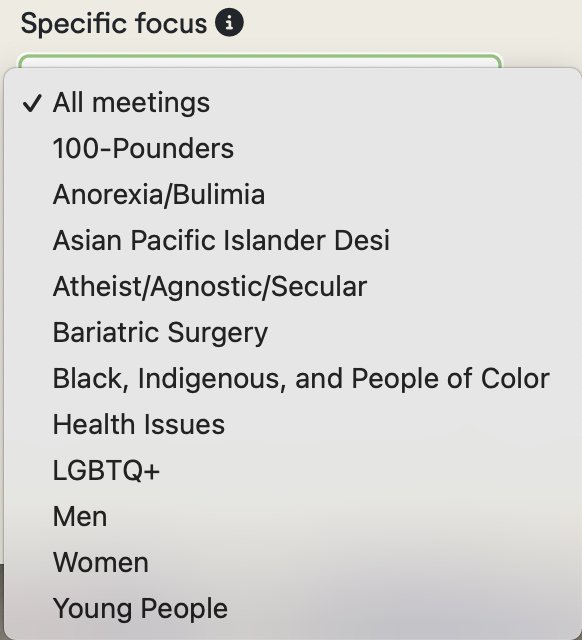 OA's Unity with Diversity Policy
OA's Unity with Diversity Checklist. The OA checklist provides a means for OA groups and service bodies to make certain that they are upholding the OA Unity with Diversity Policy statement. Checkpoint 9 provides a list of resources reproduced below for quick access.
List of Resources Highlighting Inclusion and Diversity
A Common Solution: Diversity and Recovery (pamphlet)
Black OA Members Share Their Experience, Strength, and Hope (pamphlet)
Focus on Anorexia and Bulimia Packet
Many Symptoms, One Solution [flyer]
OA Members Come in All Sizes (pamphlet)
To the Young Person (downloadable PDF)
To the Man Who Wants to Stop Compulsive Overeating, Welcome (pamphlet)